Hayes Optima Business Modems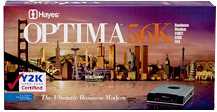 Hayes Optima modems are uniquely suited for host connectivity applications. Through the use of AutoSync technology, these modems eliminate the need for installing separate synchronous adapters required by most synchronous modems. The Hayes Optima modems provide synchronous host connectivity while connected to a standard serial port.

Features:
V.34 or V.90 modem standard (Optima 336 and 56K models respectively)
V.42 error correction
V.32bis data compression
Plug and Play installation
Industry standard AT Command Set
Auto-dial
Auto-answer
AutoSync 2 support
Synchronous and asynchronous operation
Flash ROM update capability for field upgrades
Includes AC adapter and modem cable
5-year warranty when registered with the manufacturer
Hayes Optima modems are the modem of choice for use with Serengeti BSCLIB, 3780Link and 3770Link host connectivity applications.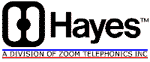 Manufactured by Zoom Telephonics Inc.



More Info...
---
SmartSync/DCP Adapter
---
SyncPCI Adapter
---
Hayes Optima
---
What is AutoSync?
---
What is Bisync?
---
Technical Support
---